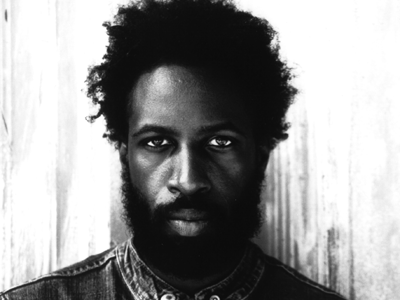 The first artist that I want to approach here is Saul Stacey Williams. Saul is a writer, spoken word poet, hip hop artist and actor from Newburgh, New York. Since 1996, Saul has released four books of poetry, six albums and appeared in nine films. He has become what many call the voice of this generation, one of the most remarkable and talented poets alive today. The most lasting mark Saul has left on the artistic world is the way he has taken over spoken word and slam poetry. The man truly has a global reach. During my four months abroad, I attended a pair of slam poetry competitions; after a stirring performance at one of them, the poet was praised as "giving a Saul Williams-esque performance". And aptly so. Many of you have encountered Saul, perhaps without knowing it. A couple of years ago, one of Saul's songs, List of Demands (Reparations), was used as the background music for a Nike Sparq Training commercial.
The writings of Saul Williams have had a significant effect on my development as a person, helping me think differently and approach the world in new ways. In order to get a second perspective on this artist, I approached a good friend of mine who is as big a fan of Saul as I am; Sara and I each answered seven questions which I came up with, hoping to illuminate the impact of Saul Williams and his writings, why you might be interested in him, and what sets him apart.
1. How did you first find out about Saul?
Sara: I actually came across Saul by accident. I was getting really into some other poets (Bukowski, Kaufman, Ginsberg, etc.) and really admiring them for their innovative use of language and beat or rhythm in their writings. A friend suggested I check out Saul Williams. Needless to say, I was instantly hooked!
Kevin: I wish someone had turned me on to Saul sooner. I actually ran across him one day on YouTube looking through video clips from Russell Simmons' Def Poetry Jam. The poem I first saw Saul perform was Coded Language. Still my favorite poem of his. I'm glad the first time I encountered Saul was through a spoken word piece; I don't know if I would have connected with him in the same way otherwise.
2. What is your favorite piece of art (song, poem, etc.) that Saul has created?
Sara: This is a really tough question...I'd have to say that my favorite poem is the first one I ever read of his. It's from The Seventh Octave and I'm pretty sure it's untitled (read it
here
). I know it starts out with the line: "I could recite the grass on a hill and memorize the moon."
Kevin: My favorite complete piece of his is Coded Language (
read it
or
watch it
), as I pointed out above. Even to take the list of names Saul cites in the poem and to learn about one each day would be a worthy endeavor. However, the power and beauty behind Saul's words is contained in the unique ways he describes the world, and the new perspectives he inevitably presents. In his poem Sermon on the Mount of the Inevitable Progression of Saul to Saul (
read it
or
watch it
), the poet writes to his deceased pastor father: "…how many tables and laptops and Cadillacs and pews and pulpits would be overturned in THIS day." The truth in that statement shook me the first time I read it. It still shakes me today when I consider its implications.
3. Are there any themes in his writings that stick out to you?
Sara: Certainly his writings have social, political, and spiritual themes, oftentimes stated very explicitly, but to me the biggest "theme" of his writings/songs is the unmistakable beat. The cadence of his lyrics is so powerful!
Kevin: For me, the constant theme in everything Saul writes is his dissatisfaction with the status quo. His passion is speaking truth, and when truth is not present he will search until he finds it. Living in this broken world, we are surrounded by pain, suffering, hatred, discrimination, deceit and numerous other daily tragedies. The beat to which he speaks is one focused on creating a better world, improving on the status quo.
4. Why is Saul an important artist in our generation?
Sara: Saul has really revolutionized modern poetry. His spoken word technique, while rooted in the tradition of many previous writers/cultures, is truly innovative, and this, to me, is what keeps poetry fresh. It would be a real tragedy if poetry had to conform to some sort of code, only certain themes, or certain structure.
Kevin: Saul is constantly pushing the bounds of poetry and of himself. The passion with which he writes is contagious, and begs to be heard. The medium with which he is the most profound and powerful is spoken word poetry; his ability to combine timeless words with indelible emotion is unmatched in this generation.
5. Describe Saul using one word.
Sara: Revolutionary.
Kevin: Inspirational.
6. How have his writings influenced you?
Sara: Saul has really opened my eyes to poetry and self expression. He is a true inspiration to anyone struggling with finding the words and the way to say what they are really feeling.
Kevin: Saul has inspired me to look at the world with new eyes and to always be seeking a new perspective. He has written often about the power of individual action (
here
,
here
,
here
) and the ability of our generation to change the world. While seeking out ways to change the world and myself for the better is always on my mind, no one has put those desires into words better than Saul Williams. His desire for change has influenced my own and helped me believe that such change is possible. The presence of love makes a huge difference, and his understanding of that truth has helped me understand it as well.
7. Explain why you think more people should get to know Saul Williams and his art.
Sara: Saul Williams certainly isn't for everyone, and that's fine, but I think that it is always a positive thing to experiment with new art forms, and new ideas. I think that others should check out Williams' work to broaden their own worlds and perspectives.
Kevin: The way Saul chooses to express himself and what he believes is unique to any other artist or writer I have encountered. Seeing someone speak and write in new ways is a breath of fresh air in our current day. What connects me most to Saul is the way I see myself reflected in him. The man refuses to let himself be defined, whether by a mirror or an audience. He is constantly reinventing his art, relentlessly searching for the way forward. Remaining in the same place is unacceptable; the status quo must be rejected and replaced with something fresher and better. I might not be able to weave words as powerfully as he does, but I am constantly searching for the right path, just as he is. His determination to be defined by no one and held down by nothing inspires me to seek the same; that alone is reason enough to get to know Saul Williams and what he has to say.